Network address translation 6-to-4 (NAT64, RFC 6146) is a transition technology that can be used, in conjunction with DNS64 (domain name system 6-to-4, RFC 6147), to replace NAT44 in dual-stack networks, and allowing support of IPv6 only devices.
Dual stack is a common deployment solution for adding IPv6 for both consumer and corporate networks, although IPv6-only is becoming more common, with the typical guidance being "IPv6-Only Where You Can, Dual-Stack Where You Must"
Even if you are still stuck in dual stack, it still makes sense to use some of the IPv4 as a Service technologies, such as NAT64 and DNS64, which have the upside of allowing you to support IPv6 only devices, and no downside. As an additional benefit, you also get valuable experience in IPv6 systems.
The cost is that you need to have infrastructure that supports NAT64, either provided by your ISP, or from your own networking equipment/router. This is not as much an issue for DNS64, as public DNS64 is available, e.g. Google.
If your network supports it, look at implementing NAT64 + DNS64 today; if it does not, contact your equipment provider to find out when they will support this important technology for IPv6.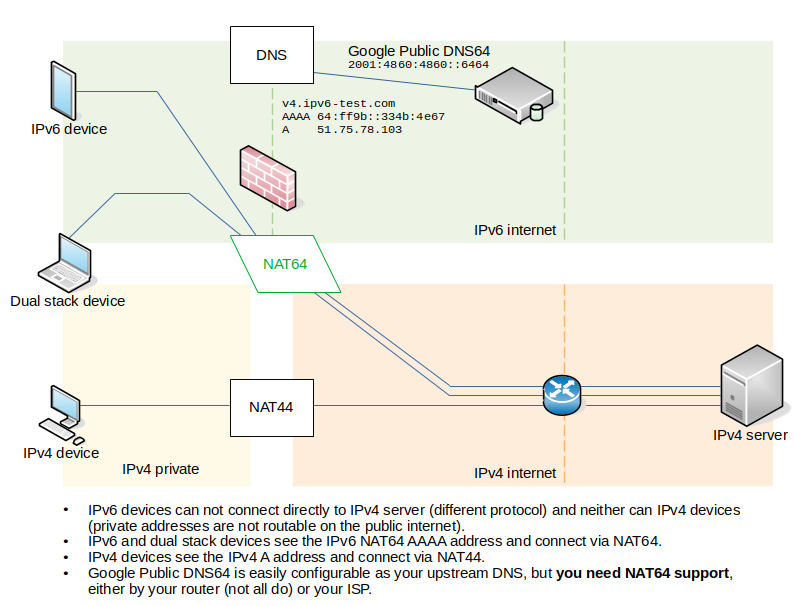 Continue reading Running NAT64 in a dual stack network(5 min read)