The ABC Vote Compass consisted of 30 questions: 15 related to social freedom and 15 related to economic freedom. Each question had five possible answers: strongly agree/disagree, somewhat agree/disagree and neutral, with 'sometimes' given a value half as much as a 'strongly'.
Some of the summary data now is available, allowing an initial analysis, such as an overall liberalism index, showing the most control-leaning vs freedom-leaning seats, the compliment to the most left-leaning and right-leaning seats reported by the ABC.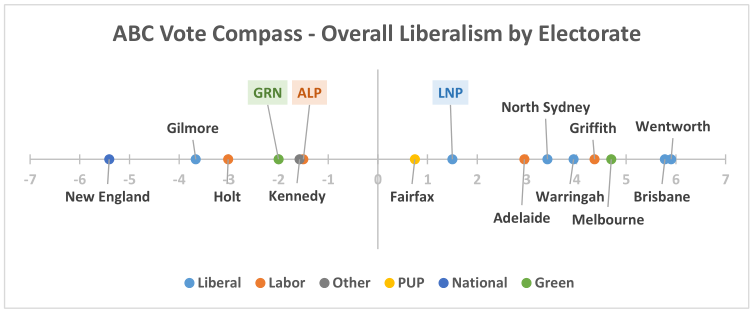 Electorates such as Curtin (Julie Bishop), Wentworth (Malcolm Turnbull), Melbourne (Adam Bandt), Griffith (prev. Kevin Rudd) and North Sydney (Joe Hockey) are some of the most freedom-leaning seats, whilst Kennedy (Bob Katter), McMahon (Chris Bowen) and New England (Barnaby Joyce) are at the other end of the spectrum.
Continue reading Australia's most control-leaning and freedom-leaning seats(5 min read)